Fresh food, delivered
Cleveland Express Delivery Catering
Enjoy fresh food delivered to your door or business with our Cleveland delivery catering services.
Delivery Catering for Every Occasion
Ready to eat
Planning a social gathering or corporate event on the fly and don't require all the equipment and staff necessary for a full-service event? Try our express delivery! From the boardroom to the backyard, we're known across Cleveland for our exceptional catering delivery service. We offer a variety of drop-off options including hot buffets, box lunches, breakfasts and more.
Our express catering menus feature many types of fresh food available for delivery, including breakfast spreads, coffee boxes, salads, wraps, sandwiches, hors d'oeuvres, box lunches and hot meals.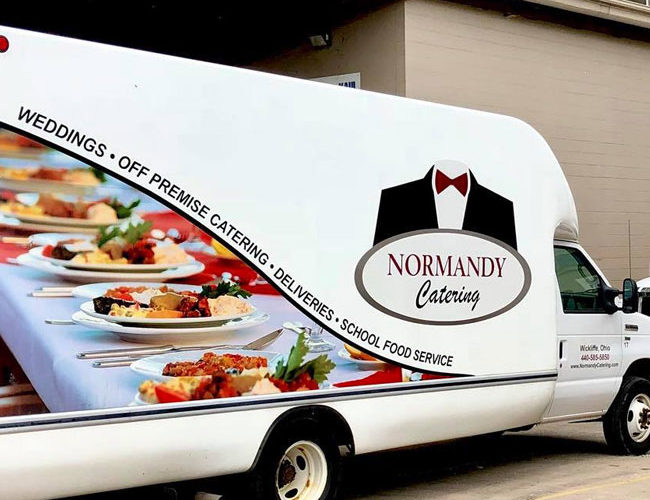 Easy Delivery Process
Our ordering process has been designed to be as hassle-free as possible. Simply select your menu and preferred style of packaging, then place your order. We'll ensure it's delivered to you fresh and on time. At Normandy Catering, we provide your business or social event with the highest level of quality and service. No matter the size of your event, whether it is for ten or 500 guests, we guarantee freshly prepared food, prompt delivery and fast, courteous set-up.
All of our delivery staff are trained to provide food that is well-prepared, presented beautifully and ready to enjoy.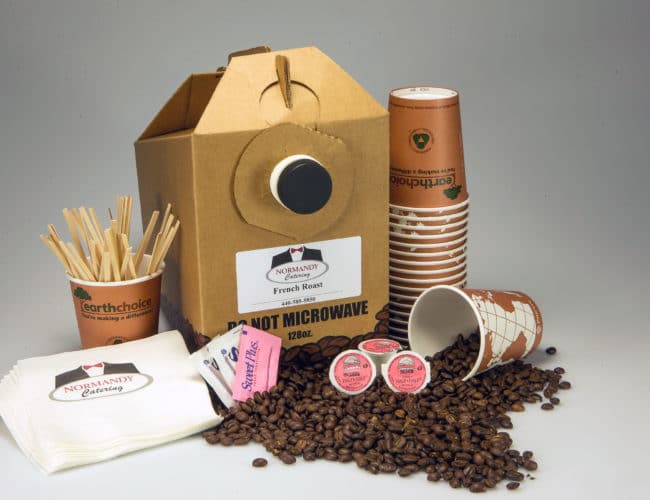 Delivery Catering Menus
Delicious and ready to eat
Soup and salads, hot buffet options, signature wraps and sandwiches, even a la carte items—we have everything you need for your event when you need it. Our express menu features delectable choices for breakfast, lunch and dinner. Delicious food is prepared fresh, packaged for portability, delivered to your location and arranged on your buffet. We understand the need for Cleveland delivery options that venture beyond the average sandwich tray. If you're looking for more variety, we also offer our picnic and clambake menus, which are both packed with tasty options for pick-up or delivery.
Fresh Choices for Everyone
Customize your order
We have fresh, delicious options for all dietary preferences. Vegan, vegetarian, keto, paleo, gluten and dairy free—we're clear about what's in our food.
Perfect for Any Event
How can we help you?
We have everything you need to make sure your event is a success and all your guests are satisfied. Aside from delicious food, we offer other drop-off and carry-out services, including breakfast, snacks, buffets, sandwich trays, box lunches, desserts, beverages, disposables and serving utensils.
Lunch Meetings Catering

Plan your next big corporate lunch with us! If you're in need of quick box lunches or a lunch buffet, one of our coordinators would be happy to provide the delivery or pick-up options you're looking for.

Employee Recognition

In a hurry and looking to give your team the recognition they deserve? We offer expansive delivery menus, fast service and the presentation you're looking for in an employee recognition event.

Shower Catering

Celebrate your bride or mother-to-be and make her feel loved and appreciated. Planning a shower doesn't have to be stressful. We're here to provide you with delivery service you can count on.

Graduation Parties

What an exciting moment! Your grad deserves to go out with a bang. Plan the graduation party of the year and fill everyone's stomachs with delicious offerings from our express delivery menu or even our picnic menu.

Holiday Get-togthers

Whether you're planning a corporate holiday party or a festive gathering with all your loved ones, it's important that everyone has the chance to actually relax. Celebrate without the hassle and choose from our express delivery catering menus. New Year's Eve, Christmas, Hanukkah and Thanksgiving are special times of the year, and we're here to make sure they shine.

Birthday Celebrations

Cheers! Who are you celebrating? Maybe it's a loved one you haven't seen in a long time, a coworker or your nearest and dearest friend. And maybe you don't exactly have the time to whip up a bunch food. We hear you! Choose from a variety of hassle-free delivery options, sit back and enjoy the party!