Ready to Eat
Cleveland Breakfast & Brunch Catering
They say breakfast is the most important meal of the day. So invite your guests to enjoy fresh, local fare crafted by our talented Cleveland chefs for a breakfast or brunch event that will delight! Relax and sip on one of our famous Bloody Mary's and indulge in brunch fare you won't soon forget.
Breakfast Catering For Business
Hot & Ready
In a bustling corporate hub like Cleveland, Normandy Catering helps many corporations fuel their teams and partners for ultimate impact. Whether you need breakfast delivery to your Downtown Cleveland office so your team can be fueled on the go each morning, a brunch buffet for a retirement party rather than your standard luncheon or a full off-site catered brunch event to say thank you to investors during an annual meeting, Normandy Catering can help.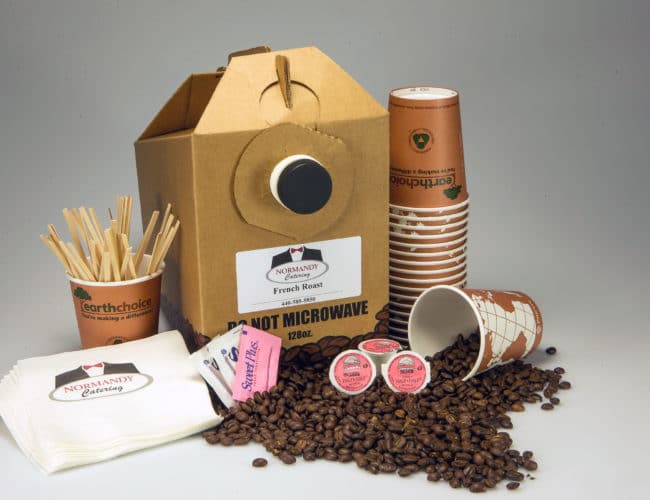 Brunch Catering at Home
Let's Party
Every occasion is worth an epic celebration these days. So why not mix it up with something a little different? Host a breakfast or brunch event! We partner with so many venues in the Cleveland area to host upscale and casual breakfast events for all types of social soirees. There's our spacious Normandy Party Center, the stunning historic Mooreland Mansion, or you can even get out on the water for a breakfast cruise on the Great Lakes with The Goodtime III. Sipping mimosas while overlooking stunning views of the Cleveland skyline from the water doesn't sound too shabby, right?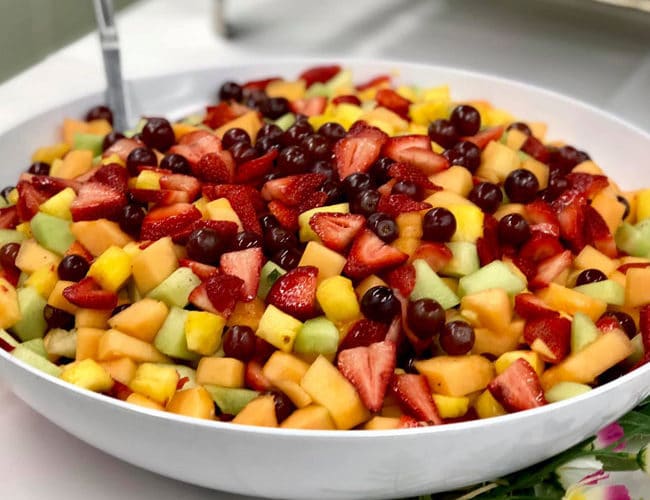 Breakfast Done Right
The Easy Way
Lunch and dinner events are ever-popular, but over the past few years, Normandy Catering has experienced a surge in Cleveland brunch popularity, with more catered brunch and breakfast events than ever. Not only is brunch trendy, but it's pretty delicious too. So whether you're planning a bridal shower, catered Cleveland corporate event, milestone birthday party—whatever the occasion is, make it a brunch or breakfast event! Wondering how to plan an epic catered brunch in Cleveland that will have your guests talking and creating memorable moments? Here are a few of our top tips:
Add Fun Brunch Bars

Making your Cleveland brunch or breakfast event interactive is one way to ensure your guests have the best time. One of our favorite additions is the Bloody Mary bar! We gather all the essentials like Tito's vodka, spicy and mild mix and everything you can imagine for an overloaded Bloody Mary. We serve up applewood smoked bacon, pepperoncinis, pickled jalapeños, pickles, shrimp and cocktail sauce, garlic, dilly beans and more!

Breakfast Your Way

Our chef-driven breakfast and brunch catering menus will ensure that you have exactly what you need for your next event. We can do elaborate brunch events for social celebrations or casual breakfast fare for your team for a day-long training (with all the locally roasted coffee!) and just about anything in between. We will work with you to craft a catering menu that will satisfy all your needs and ensure you can plan your event stress-free.

Get Breakfast Delivered in Downtown Cleveland

You don't have to contract a Downtown Cleveland venue to get breakfast or brunch delivered! Our Cleveland Express Delivery Catering allows us to deliver your breakfast to anywhere your heart desires in the city. Whether that's your home or office, leave it to us to get breakfast there on time, every time.

Mix Sweet & Savory Fare

Our breakfast and brunch catering menus for Cleveland events are filled with all sorts of sweet and savory fare that delights. We source only the finest local ingredients to craft dishes that fuel your body as well as delight your taste buds—and we're all about keeping it healthy but indulging too. You only live once! Offer a Belgian waffle station or oatmeal breakfast bar with all the fixings, or go keto with a buffet filled with egg dishes like Italian frittata and breakfast meats. Fabulous charcuterie spreads sprinkled with fresh local fruit are also a perfect way to add a little flair to your brunch or breakfast.

Diet Friendly

When planning breakfast events, there are a lot of moving pieces. Many of our clients sometimes stress about accommodating dietary restrictions for their breakfast guests. Don't worry about that—let our Normandy Catering team help you out. We make every effort to identify food ingredients that may cause allergic reactions for those with allergies and can accommodate vegan and vegetarian, gluten-free, nut-free, etc. We'll work with you to ensure your brunch menu is perfect for your Cleveland event and every guest.