Trusted by the best
Cleveland Corporate Event Catering
Everything you need
Successful events start here
Let's say you're hosting a company meeting and need to serve a lot of hungry professionals. Whether it's a a meeting, an important reception or casual cocktail hour, our Cleveland corporate catering services ensure you don't have to lift a finger. Choose one of our chef's selected menus that are all made from scratch using the best local ingredients. Or customize your own! Normandy Catering has years of experience coordinating Cleveland corporate events. We will provide the impeccable service, thorough planning, extensive resources and innovative menus to have your corporate catering needs covered.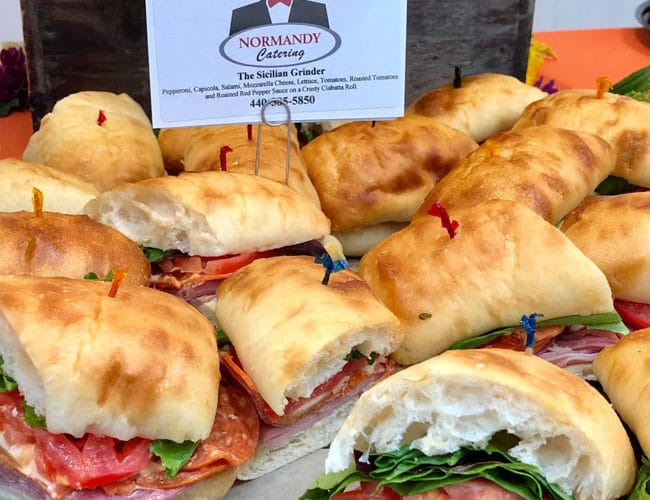 Work with your dedicated planner
As professional planners, we understand the pressure to coordinate an event that flows seamlessly. Regardless of the formality, every corporate event has a direct impact on existing and new relationships. We are proud to be one of the most trusted full service catering companies in Cleveland. We start with your business goals and the people in attendance and build from there. We understand the fast-paced nature that business demands. Our event planners are skilled at fast turnarounds and meeting your needs head on. With over 40 years of planning experience working with event planners across Cleveland, we understand the timing, logistics and communication that are required for professional events. Whether you're planning a large-scale gala, corporate board meeting or holiday party, your reputation is safe with us!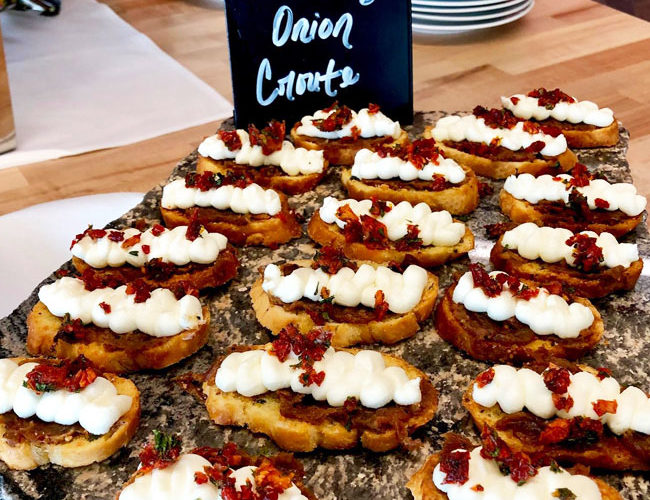 Flexible Menus
Made for your event
Are you envisioning a healthy spread for your breakfast catering? How about innovative stations for your networking event? We create menus around your event needs and ensure a presentation that matches. Choose from a variety of our customizable menus that are chock full of delicious appetizers, entrees and stations. Or, if you're looking to create a themed or cultural menu, we would be happy to learn more about what you have in mind. From international conferences to holiday parties and award ceremonies, we are confident we can build a corporate menu that truly resonates.
A Variety of Delicious, Healthy Options
You're in control
So many planners are on the search for catering menus that offer variety. Sandwich trays don't work for every event. That's why our professional chefs are hard at work in the kitchen experimenting with fresh, local foods and options to match every dietary preference. They also understand the need for new, trending options and experiences with food. Whether you're in need of a traditional hot breakfast for your corporate meeting, delectable seasonal hors d'oeuvres for your holiday party, a fajita bar for a gala reception or a Southern BBQ for your company picnic, we can customize according to all tastes and preferences. For your guests with vegan, vegetarian and gluten-free dietary needs, we have a range of options available and are happy to customize. Our vegan menu includes options like roasted ratatouille with brown rice, roasted vegetable chickpea pasta and vegan coconut cake. Yum!
Beyond Catering
How can we best help you?
In addition to our menu offerings, we also provide the "extras." Some of the resources and assistance we provide along with corporate catering services include DJs to play music during your corporate events, hotel accommodations for out of town guests, transportation coordination, dance floors, linens, centerpieces and tableware, venue guidance, custom lighting, centerpieces, audiovisual equipment and bar service.
Networking Events

Networking events give business professionals the time and space to get to know each other and discuss important matters that bolster current and future business endeavors. Whether you're planning a networking breakfast or a casual get together or even a happy hour, our team understands the logistics and professionalism required so your event is a success.

Board Meetings

Corporate board meetings are some of the most complex, stressful events to plan. Especially when they are being planned on the go. We are more than prepared to help you with the hardest part—the food!

Galas and Special Events

We understand that your gala reflects a unique vision and belief and are here to provide the exceptional catering and detailed planning so that your event makes a difference and resonates with everyone.

Breakfast

Looking to give your team or colleagues an extra morning boost? We offer an extensive breakfast menu and various catering solutions. Whether you're in need of quick drop-off or a fully staffed morning event, our team will deliver. Learn more about our breakfast catering services.

Holiday Party Catering

The holiday season is a great time to celebrate a long year of hard work and accomplishments. It's also a way to connect with the vendors and partners you've worked closely with all year. We'd be honored to help you create the holiday party that goes down in Cleveland history!

Corporate Lunches

Plan your next big corporate lunch with us! Whether you're in need of quick box lunches or a lunch buffet, one of our coordinators would be happy to work with you to create the perfect menu for your group of business professionals. Learn more about our lunch catering services.

Company Picnic Catering

Company picnics are the best! The smell of the grill, the grassy locations, the camaraderie shared among coworkers, family and friends…if you're planning a corporate picnic in Cleveland, we have the professional team and menus to match your occasion.

Product Launch Event

There's no better way to cap off the end of a project than with a party.  We can help you, your team and your customers celebrate your new product with a launch party that everyone will remember.

Company Anniversary Party

Starting and running a business isn't easy.  That's why we love helping celebrate company anniversaries.  Treat your team and even your customers to a celebration of growth and longevity.